Before leaving on my expedition, the first thing all of my design friends asked me was, "Are you going to Berlin?" Truthfully, I did not know then, but they assured me that it was a place I had to visit. While I had wanted to visit Germany[1], and Berlin in particular, for sometime, I did not have any expectations for the city. As with most of my travels, I approached the city with an open mind. I am delighted to say, Berlin is an AMAZING city, and I really felt very comfortable and at home there.
My excitation for the trip began from the moment I stepped on the afternoon DB Bahn train to Berlin in Amsterdam. My European friends may not realize this, but train travel in The States can be nice, but it is not nearly as beautiful or as timely as it is on your continent. When I saw what my compartment looked like, I immediately sent the picture above to my mother saying, "It's like a modern day Poiret mystery set. Uh-oh, does that mean there will be a murder mystery to solve?" We are both big Agatha Christie fans, and I spent my childhood growing up watching David Suchet on Sunday nights on PBS's Mystery program. Happy times!
It is a shame that I fall asleep so easily on trains, planes, and in automobiles, because I miss out on all the beautiful scenery, but occasionally I'm able to look at it and just think about all the different types of people that live there and the lives that they must lead. Things seem a bit more in perspective at these times, and things like studio drama, arguments, disappointments, ignorance, and all sorts of things seem petty and unimportant. I would like to say that this is some sort of branch of enlightenment; however, I know the realist-taciturn-human I am will always observe those things and react in a way that seems appropriate.
Apologies, I digress…Berlin, located in northeastern Germany, is the capital and largest city of Germany with two rivers—Spree and Havel—embanking it.[2] The city was bombed throughout WWII, and notably during the Battle of Berlin—the final major offensive of the European theatre of WWII in April-May 1945.[3] This is an important fact because, as will become clear, one of the reasons architecture students find Berlin a gleaming gem is because it is a new/renewed city.
I stayed in what is a collection of studio apartments, called Studios an der Charitéstraße near Berlin Hauptbanof, as well as, Charité Universitätsmedizin Berlin Campus Mitte, Reichstag Deutscher Bundestag, the Marie-Elisabeth Lüders-Haus, and The Spree. Since we studied microhousing this past semester in studio, I found the apartment very interesting, as it was literally one of six rooms with a bed and shower-sink-toilet unit within what was a larger 19th century apartment. Though there was no kitchen or common space, as a I mostly exist off of sandwiches as a student and traveler, it was very convenient.
I had no particular plans for my first day, and I decided to walk and figure out what I wanted to do. I walked and saw the Reichstag Deutscher Bundestag and the Marie-Elisabeth Lüders-Haus before having a break by river. While sitting and people watching, I remembered that there were two things that I have always wanted to see and that I could do it in one go—The Thutmose Nefertiti Bust in the Neues Museum[4]. On the walk to the museum, I took many photos of architecture while admiring the use of materials, solar shading devices, and the precision with which the buildings were constructed.[5] It's so cool!!! Plus, I enjoyed taking in the sights like Brandenburger Tor, the Max Liebermann Haus, the Holocaust Memorial, the Memorial to Homosexuals Persecuted Under Nazism, the German State Opera House, Humboldt University, and just the street life.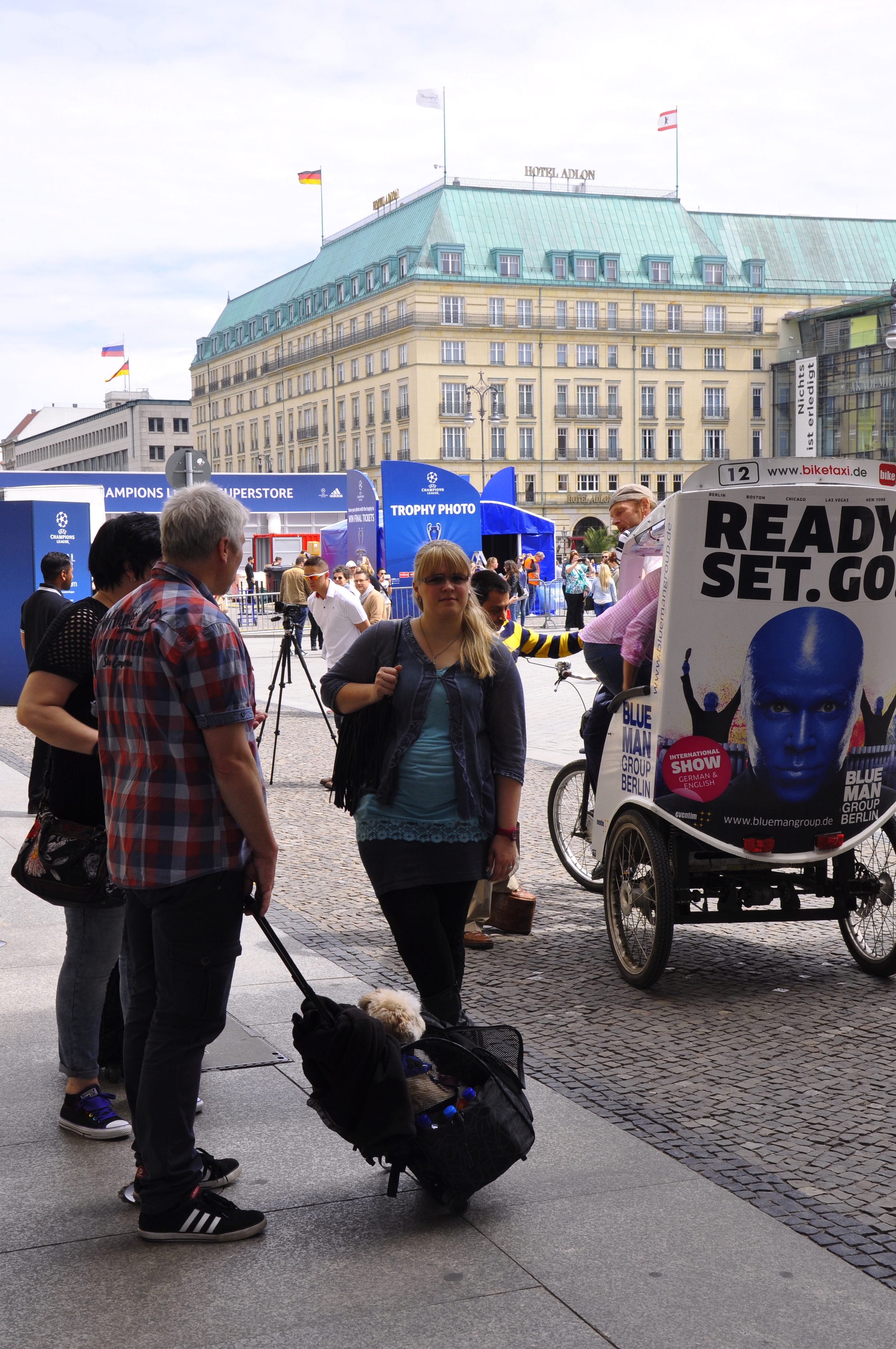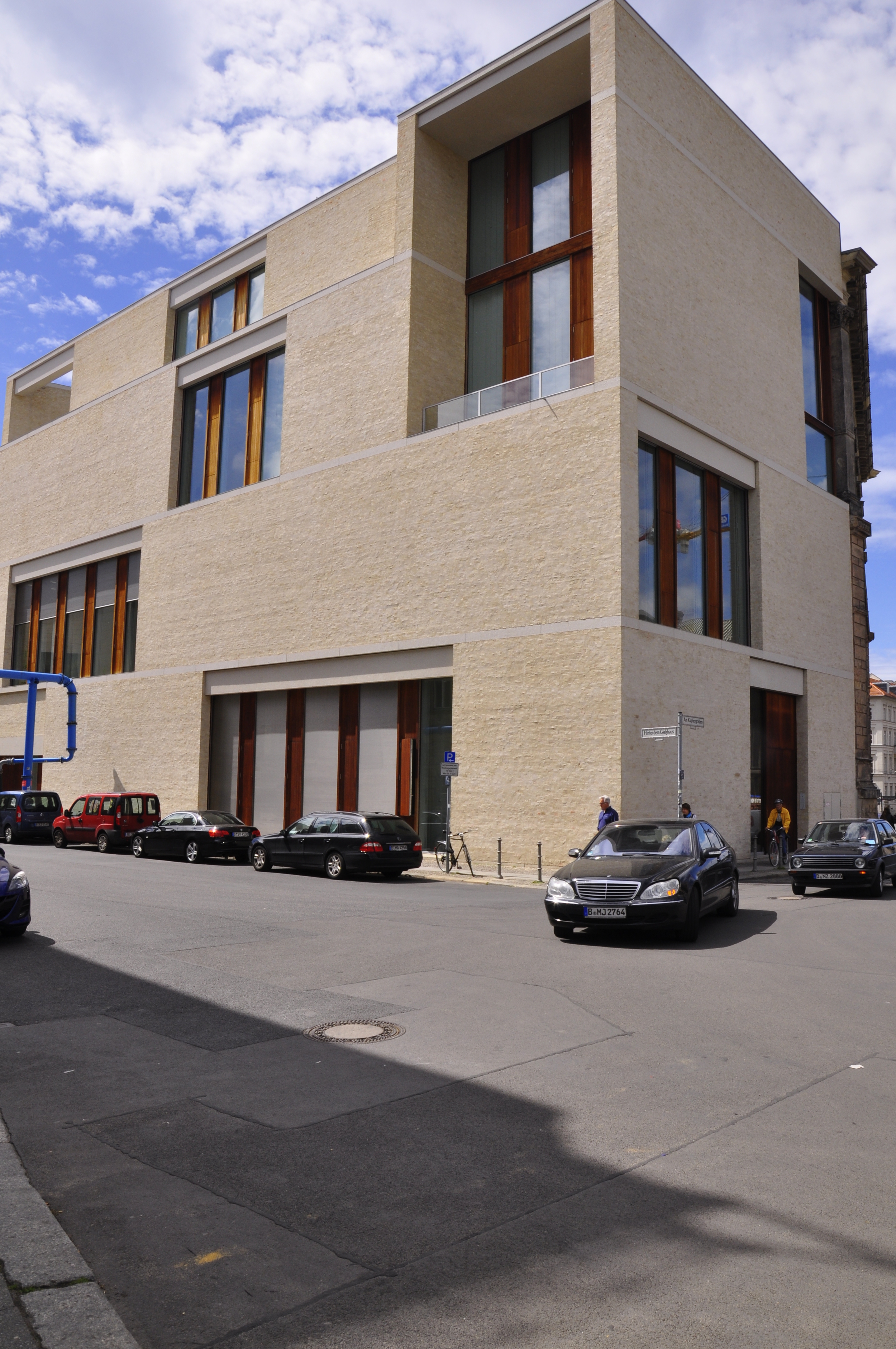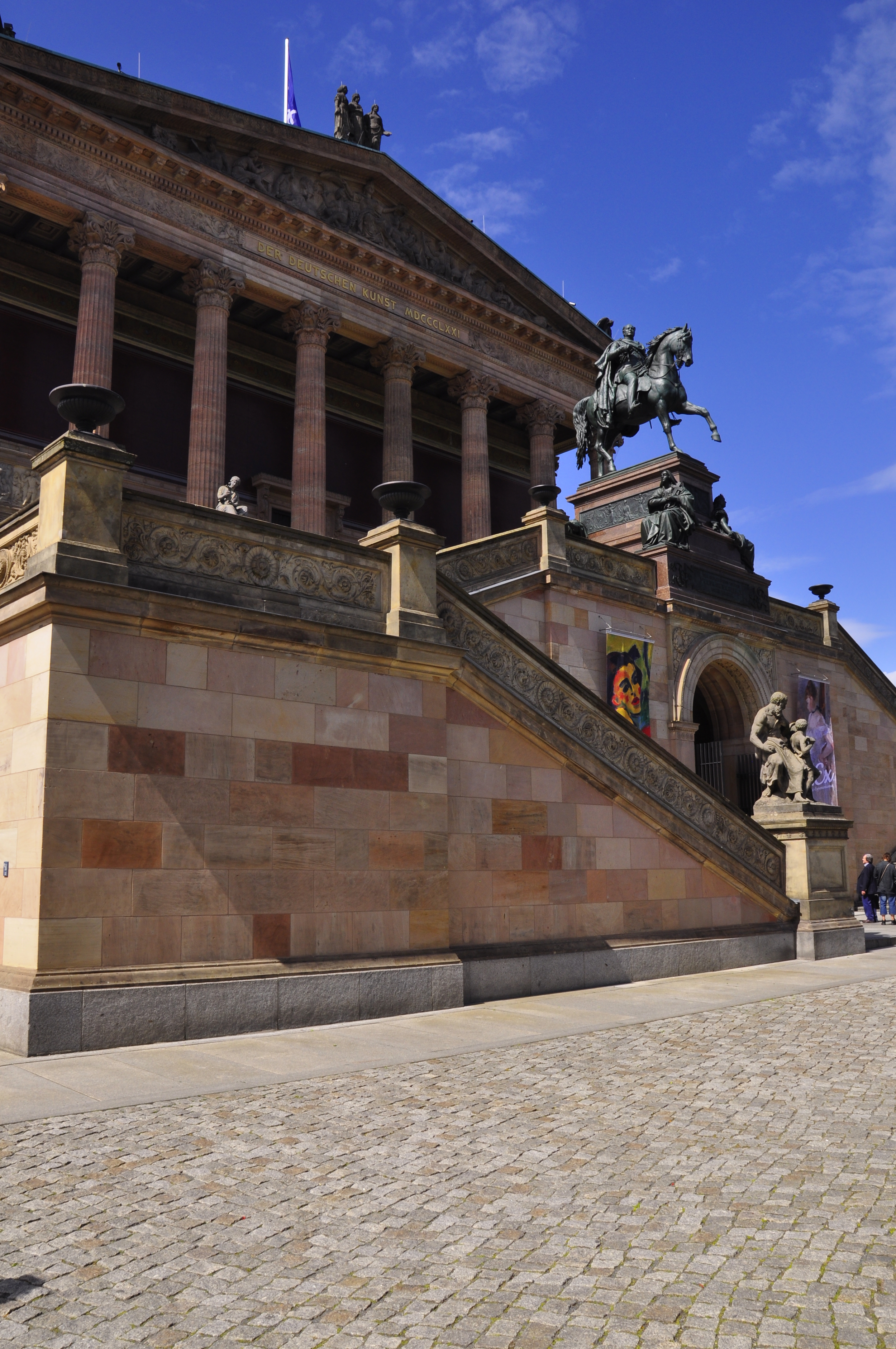 Once at Museum Island[6], I purchased a 3-Day Museum Pass Berlin for 12€, which allows entrance to almost all of Berlin's museums, and planned to see a little bit of as many museums as I could before tiring out. However, thankfully, that did not happen. I spent the whole afternoon inside the Neues Museum truly falling in love with the place. So much so, that I was sad to leave when it was closing time.
The Neues Museum is such a beautiful gem that was recently and elegantly restored by noted British architect, David Chipperfield. What I love most about the museum is that it is also an artifact of the damages of war, and it subtly asks one to recognize that these scars are the result of events that must not be repeated. DCA's restoration design shows great empathy for all that must occurred in this place since opening in 1859. Just as damaged integument heals with a scar and creates an alteration in the existing fabric that outlines its contemporary history, so too does the restoration of the Neues Museum. It is just such an exquisite place; I cannot do what I felt and experienced there justice with words. My awe of the museum and enthusiasm for the collection was evidently visible, as one of the museum assistants, Sebastian, was so kind and came over with a stack of information on the Egyptian galleries and the museum itself.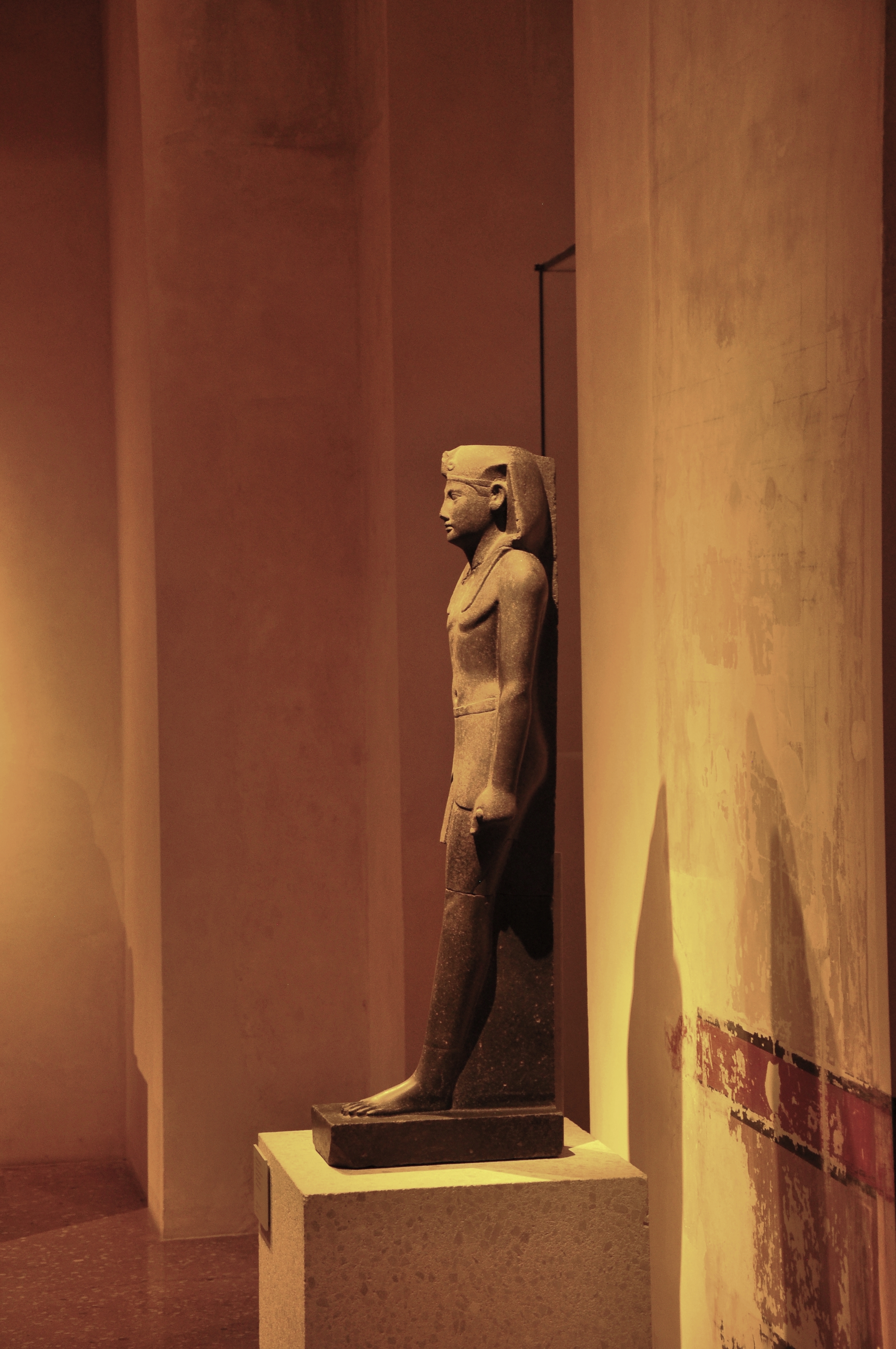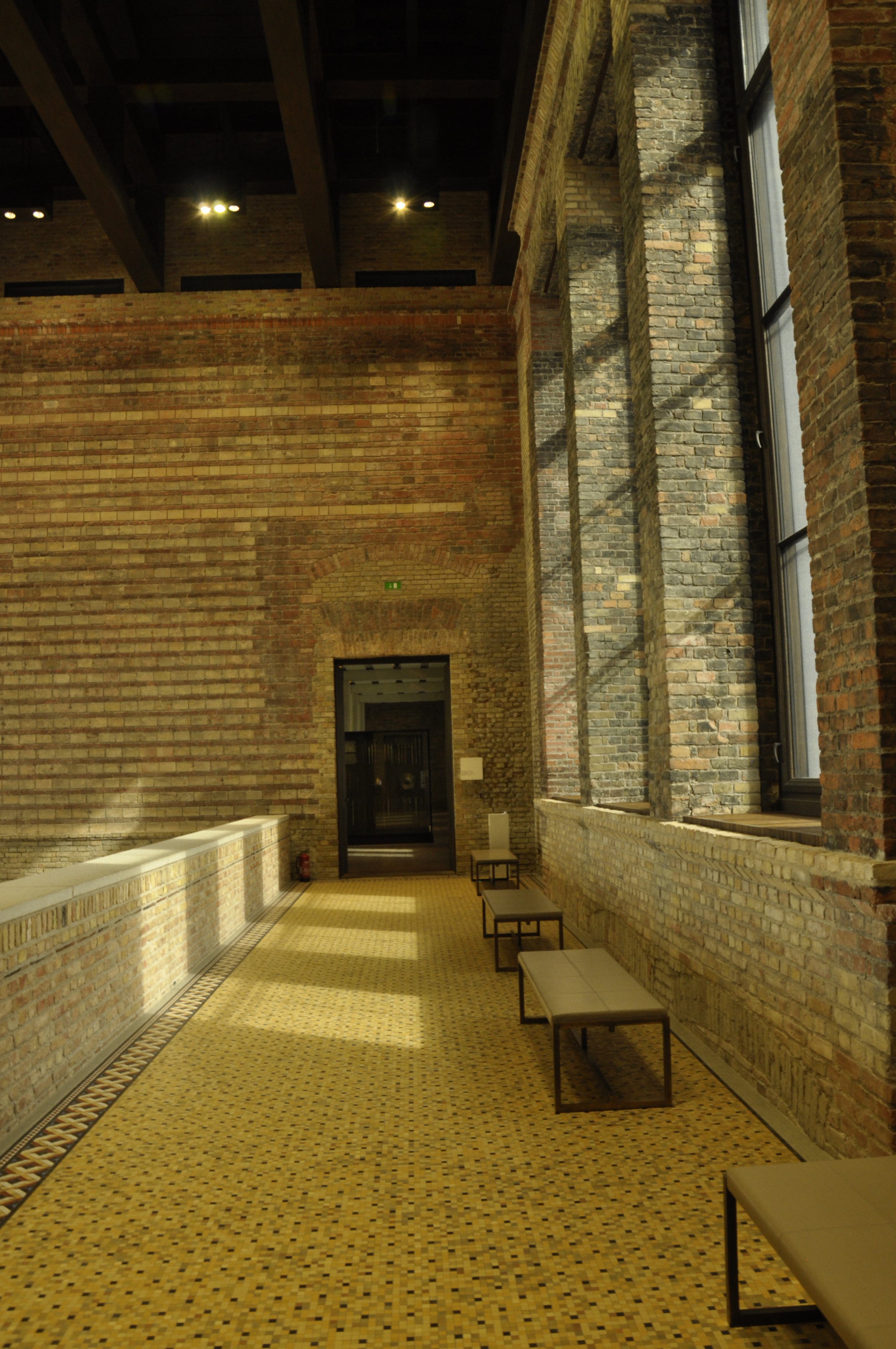 After leaving the delight of the museum, as it was such a pretty evening, I decided to walk around more, get lost, and find my way back. It was an indulging evening of people watching and revealing discoveries both personal and tangible. For instance, I found one of my new favorite art, design, and philosophy bookstores, Buchhandlung Walther Konig GmbH & Co. I spent a little more than two hours there just fawning over books I have wanted for some time. Let's just say, some damage was done to my wallet, but the bookstore has very reasonable prices, and my purchases were still about half what they would be in the States.
From the bookstore, I continued walking to Alexanderplatz and saw the Red Town Hall, Fernsehturm Berlin and stopped for a currywurst and a beer. After realizing how late it had become and starting to feel tired, I made my way home on the tram. The next day, I decided to drop my bags off at the train station and continue spending the day just wondering. I also reserved my cabin for the night train to Zurich to be followed by another train to Milan. I was so excited about taking the night train and having my own compartment, as it has been a lifelong dream.[7]
Fueled by the excitement of my impending rail travel, I just started walking without a destination. While I thought of journeying back to museum island, I decided that I wanted to see some history of Berlin that I could remember witnessing—the fall of the Berlin Wall—so I decided that my day would include elements of the Berlin Mauer. I started by visiting one of the oldest cemeteries in Berlin, Invalidenfriedhof, which was partially destroyed to make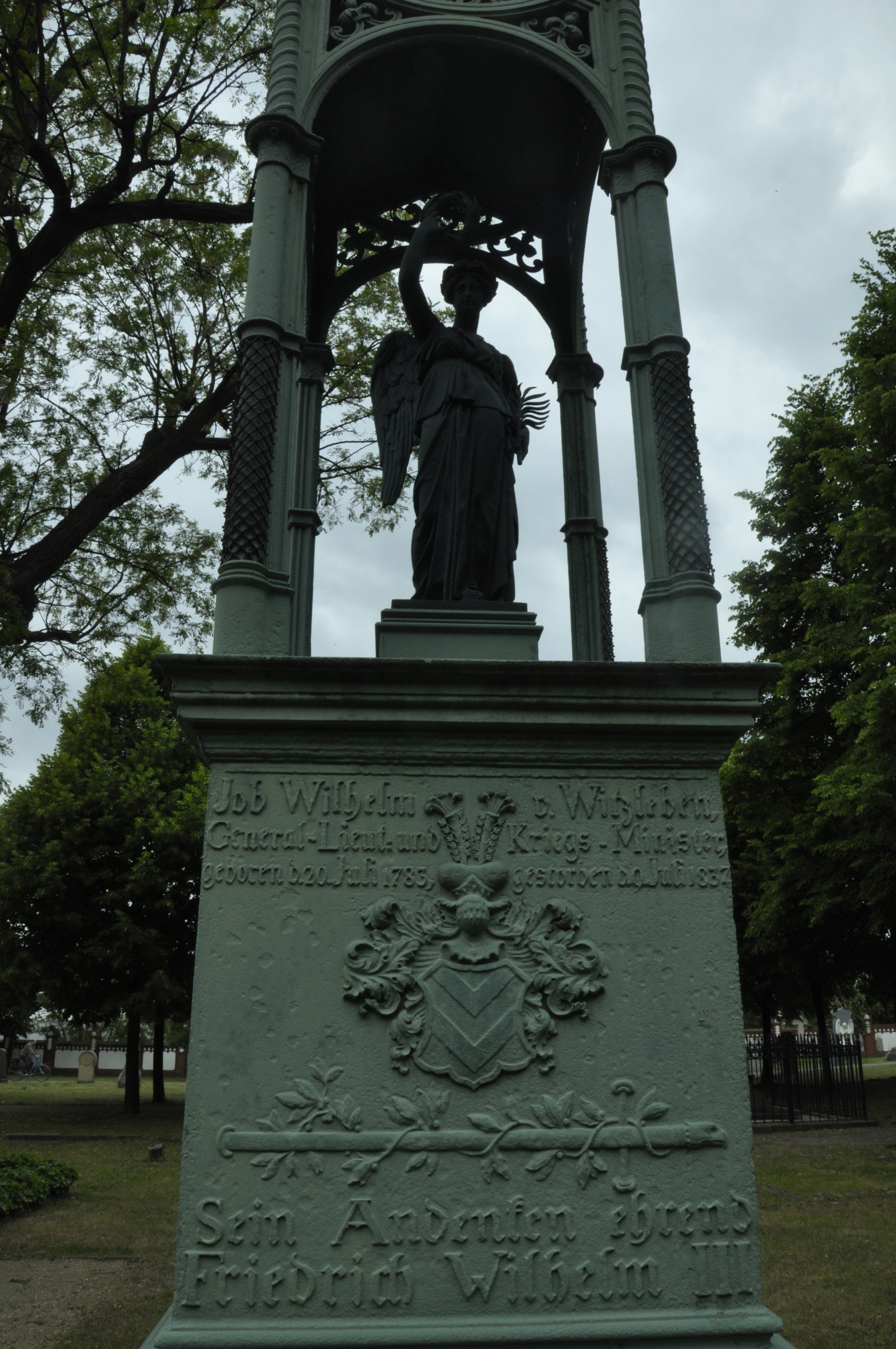 Next, after arriving at a park near Museumsinsel, I had a lunch of delicious strawberries as I planned a route to the East Side Gallery. Along the way, I decided to see the city from above and visited the Berliner Dom at the Berlin Cathedral. I then ventured through the historic district, Nikolaiviertel, and then followed the road all the way out through the entire stretch of the East Side Gallery and crossing over the Spree at the Oberbaumbrücke. Graffiti art, especially a palimpsest such as this, is incredible. The wall is full of all of these images promoting peace and understanding, equality and forgiveness, and, most of all, love. As soppy as this may sound, with all the literal and physical separation the Berliner Mauer embodied during the DDR, like the Neues Museum, it was nice to see that this scar has adapted itself to the society of now while maintaining realistic view of the past.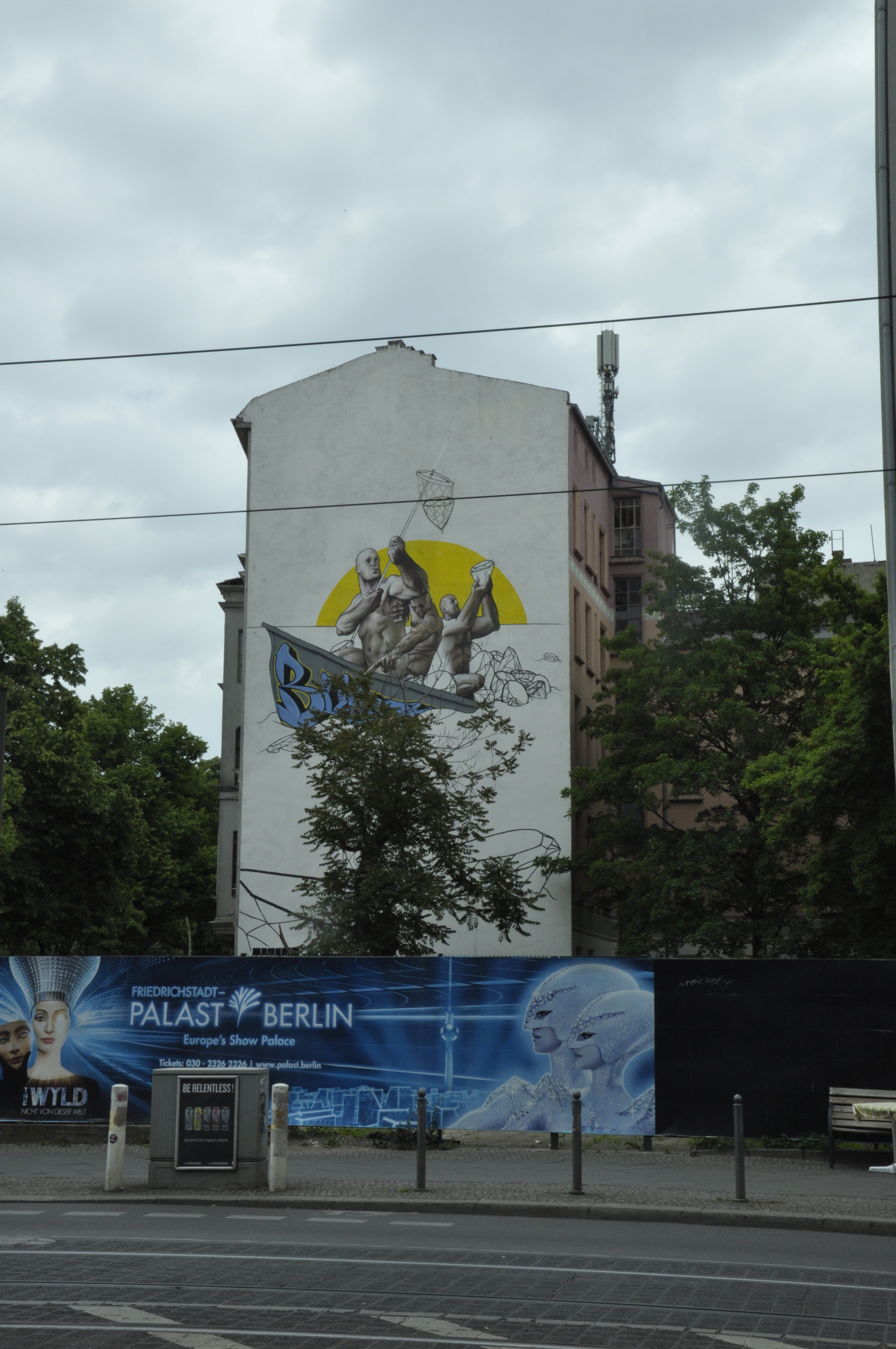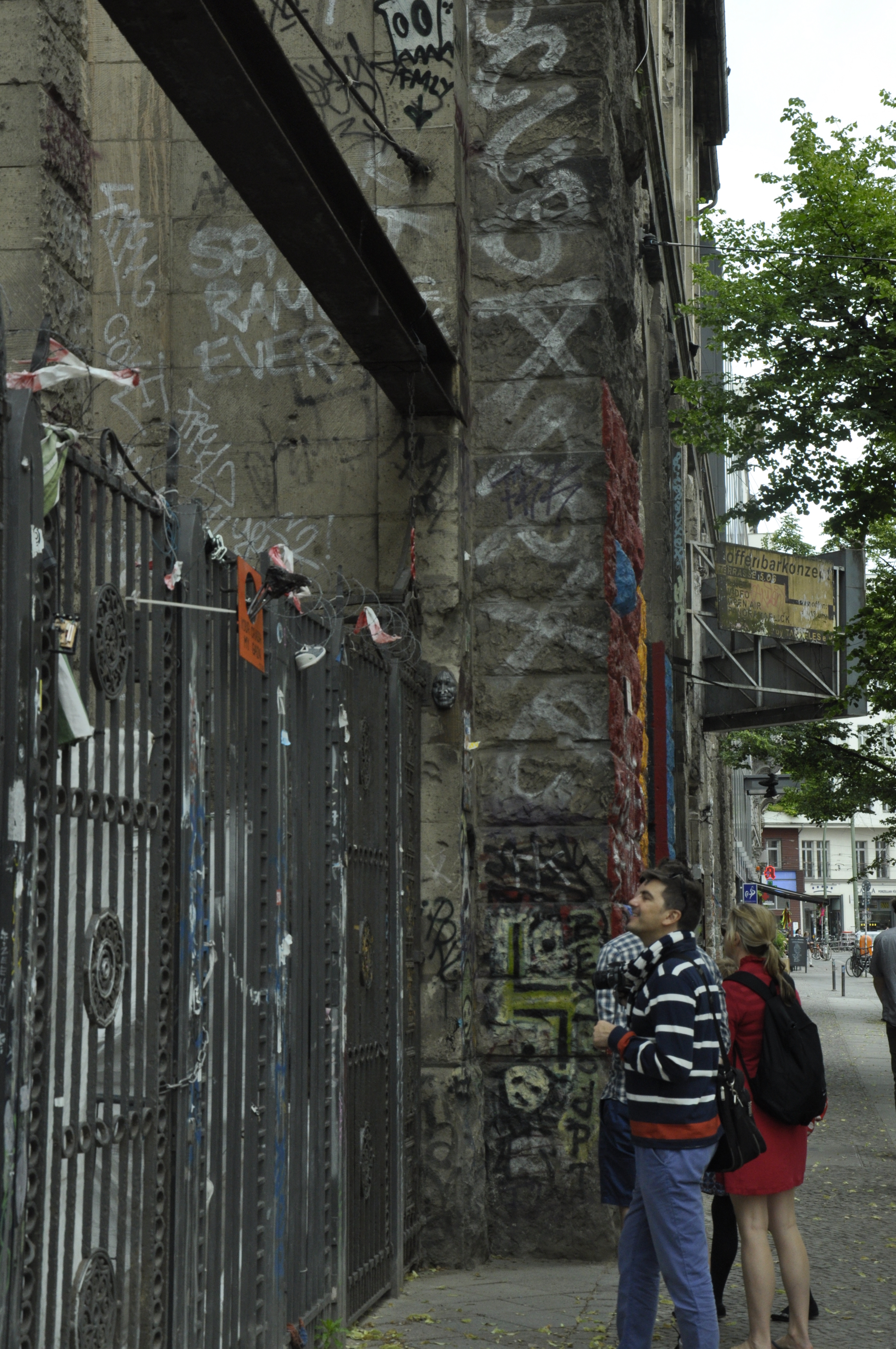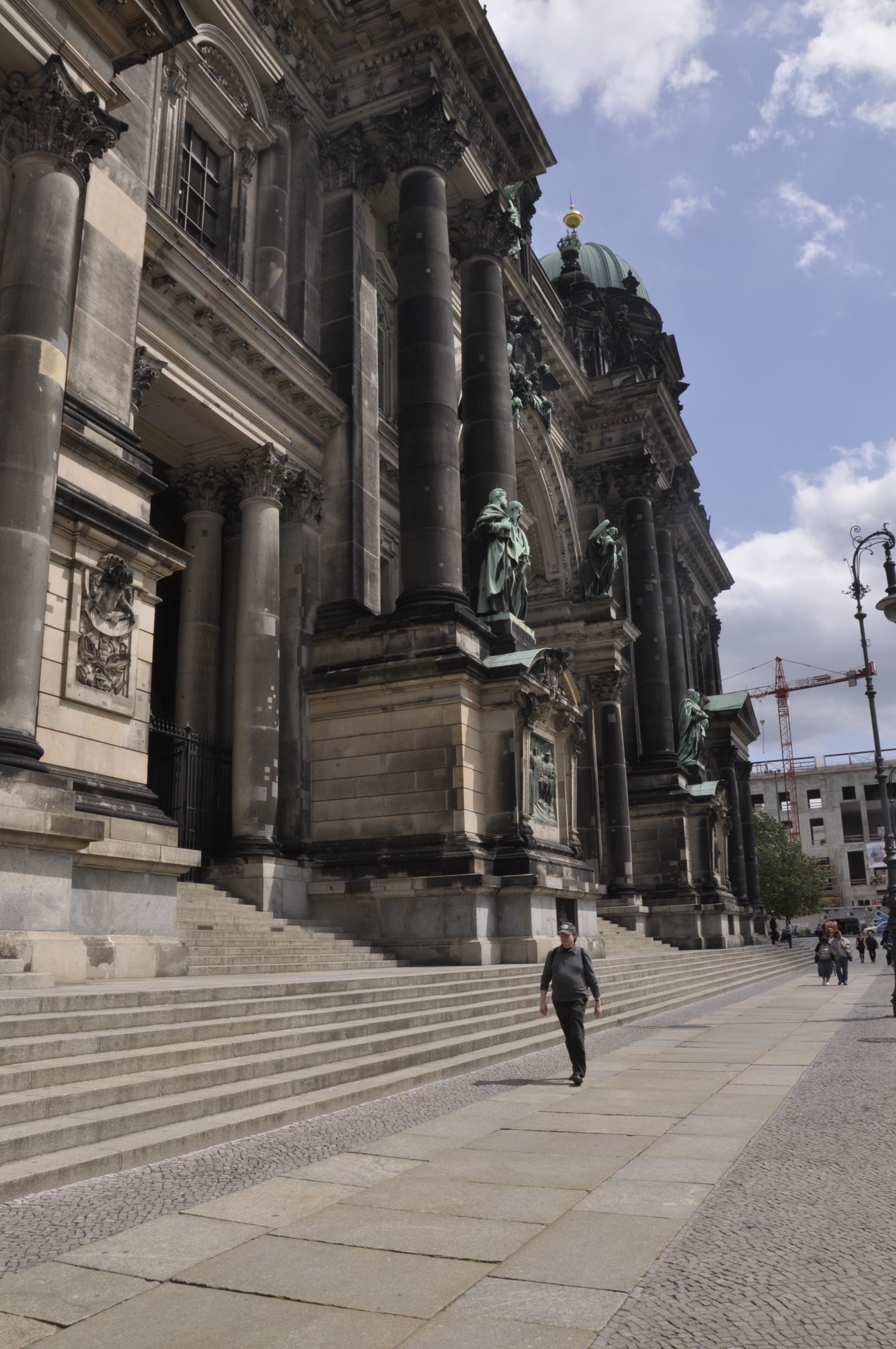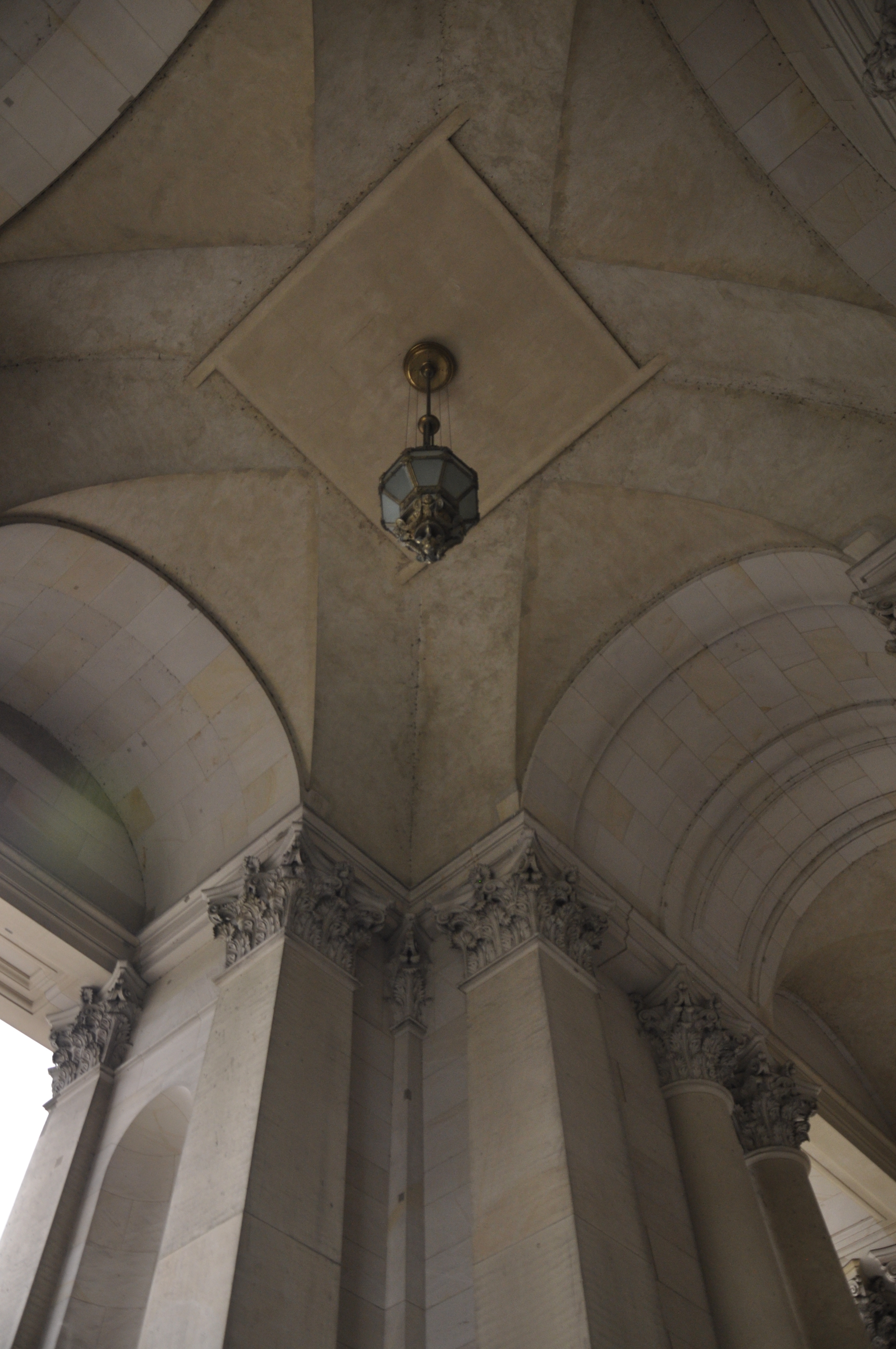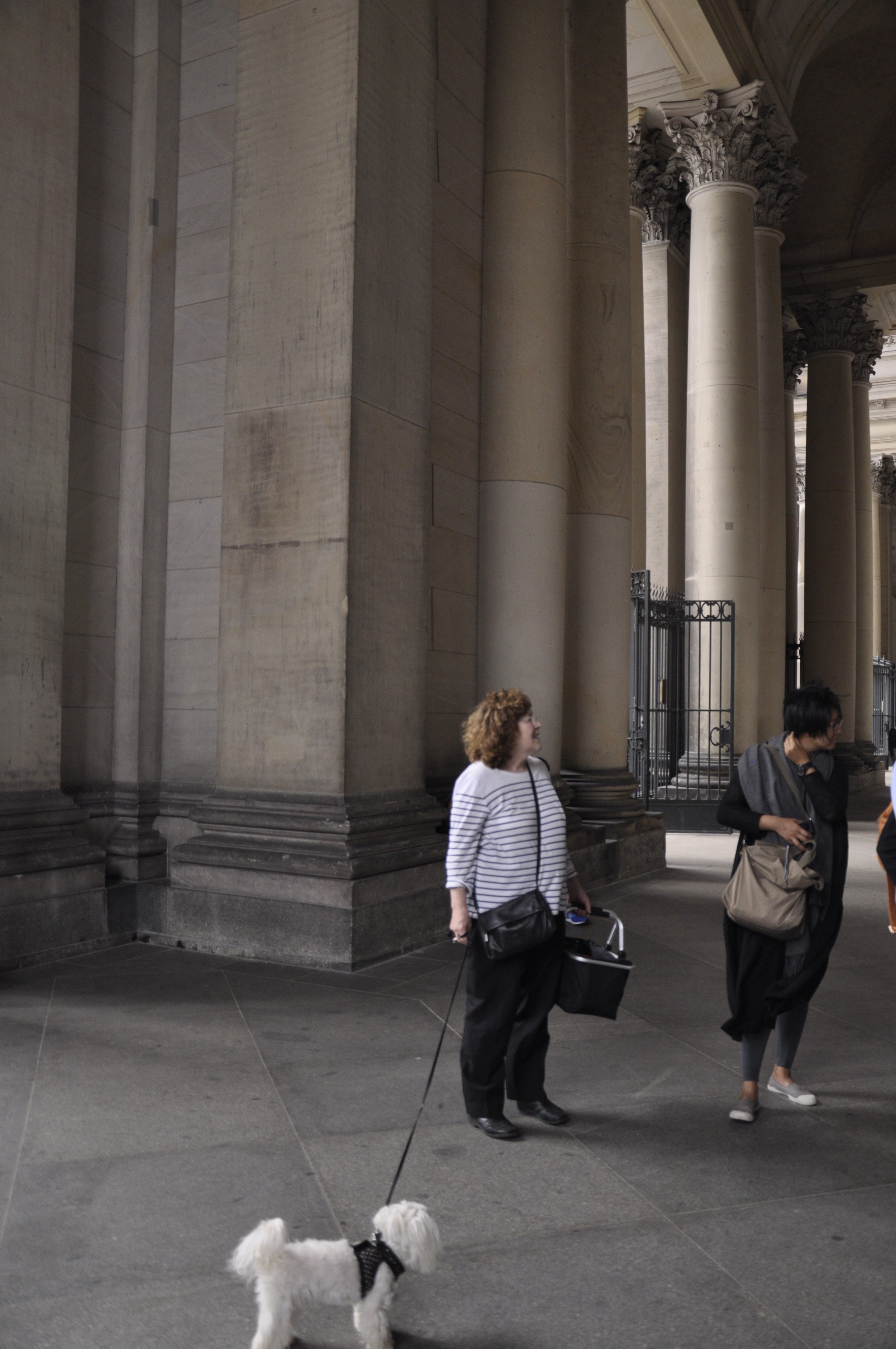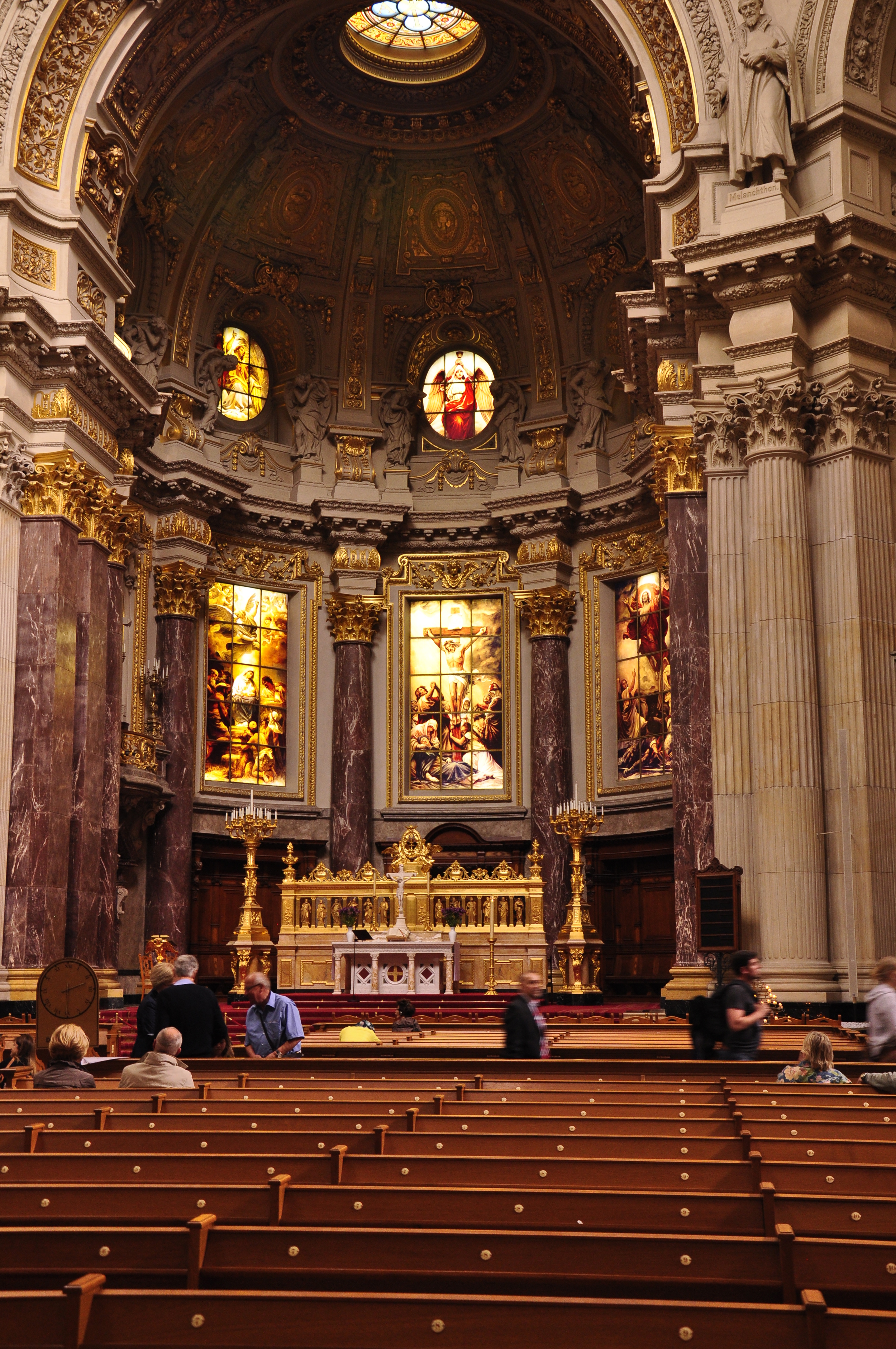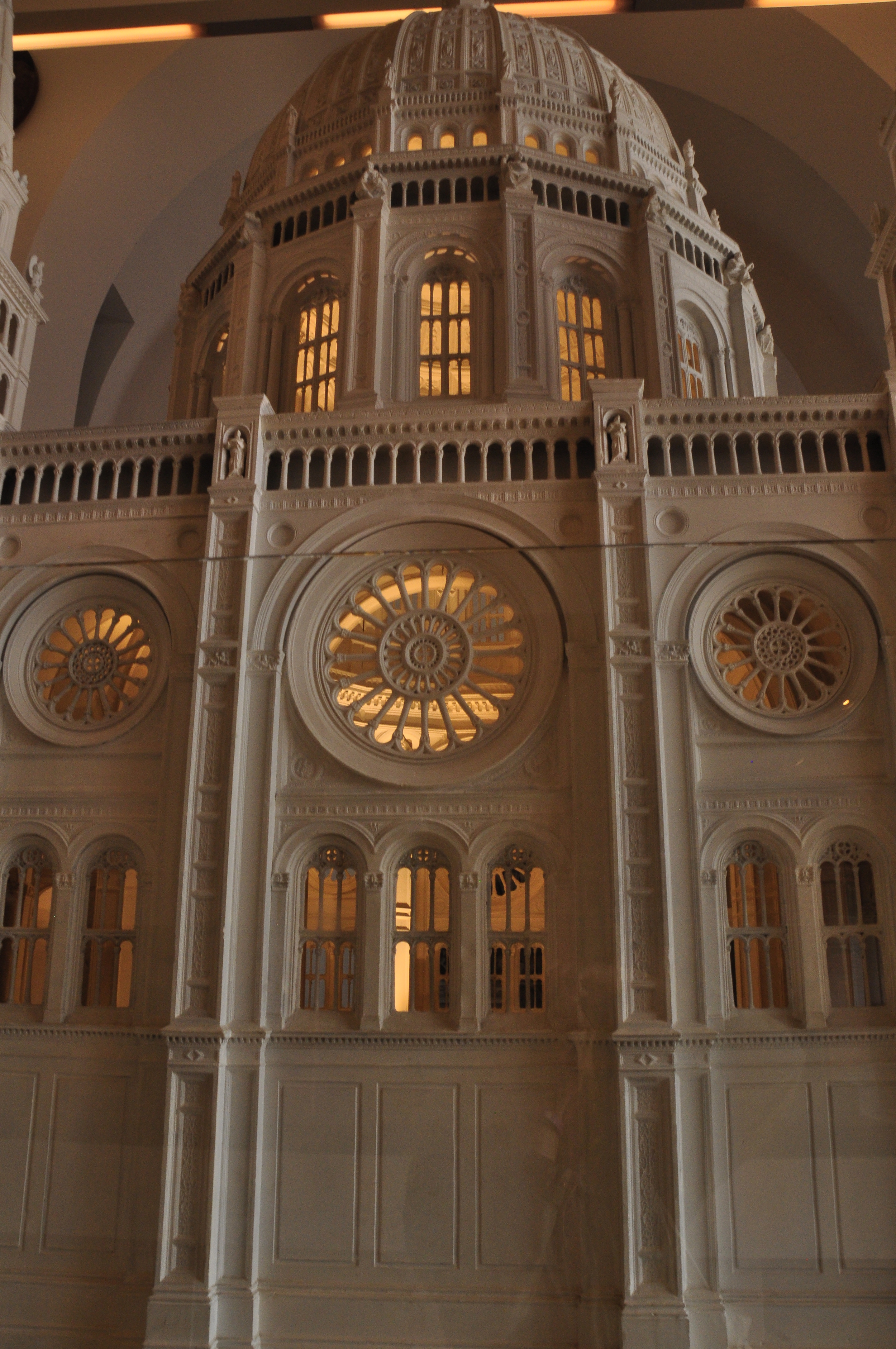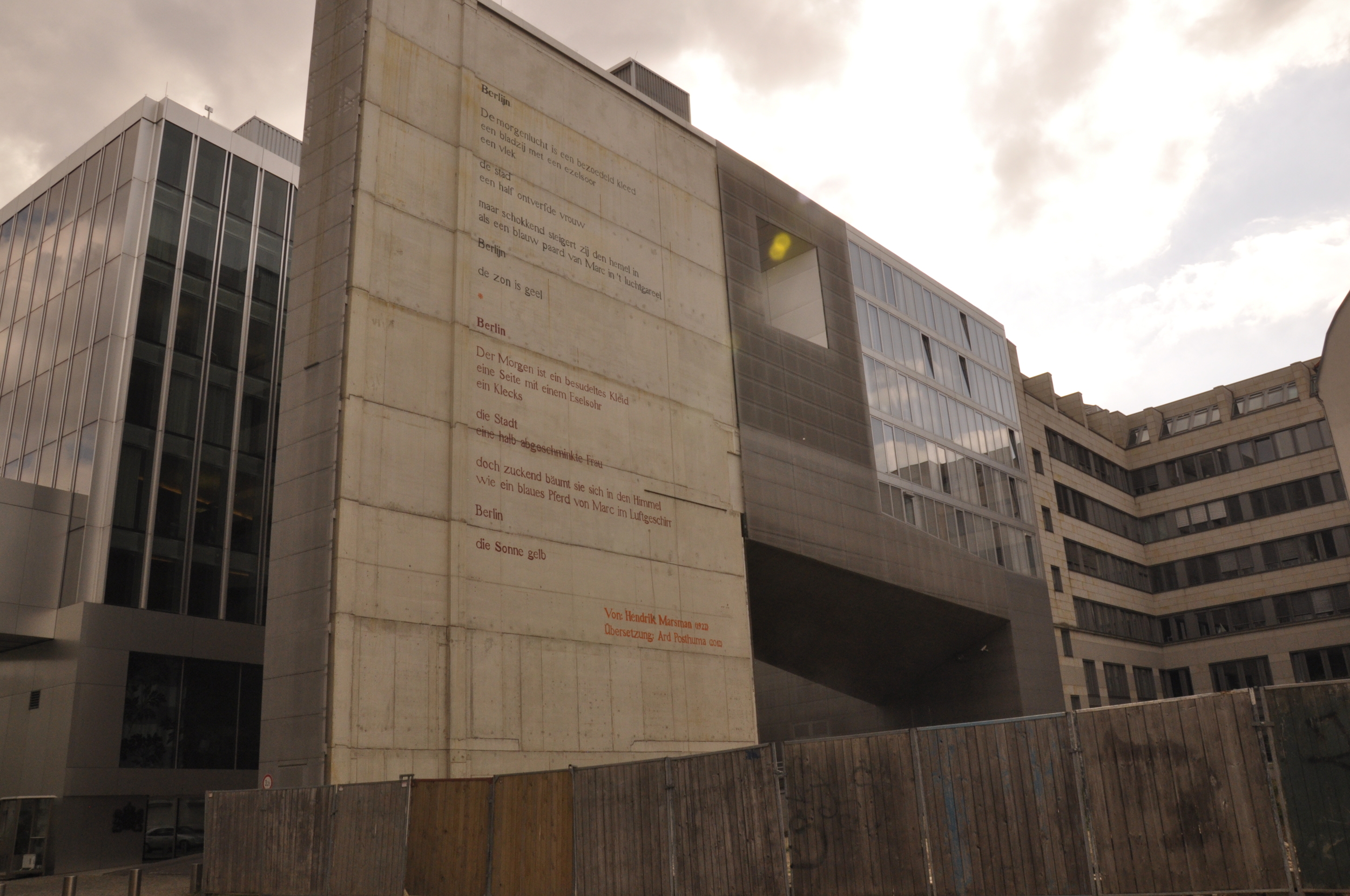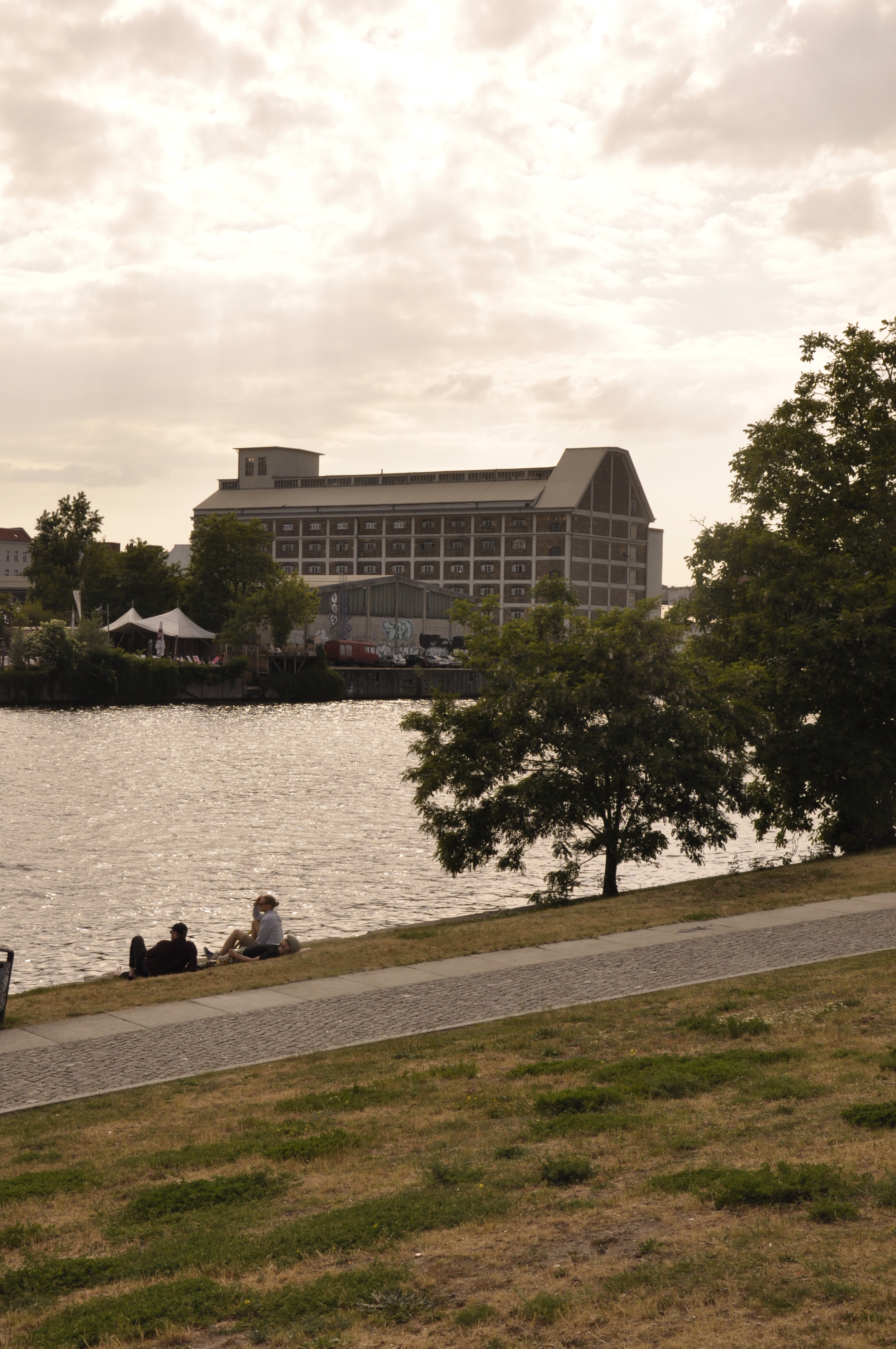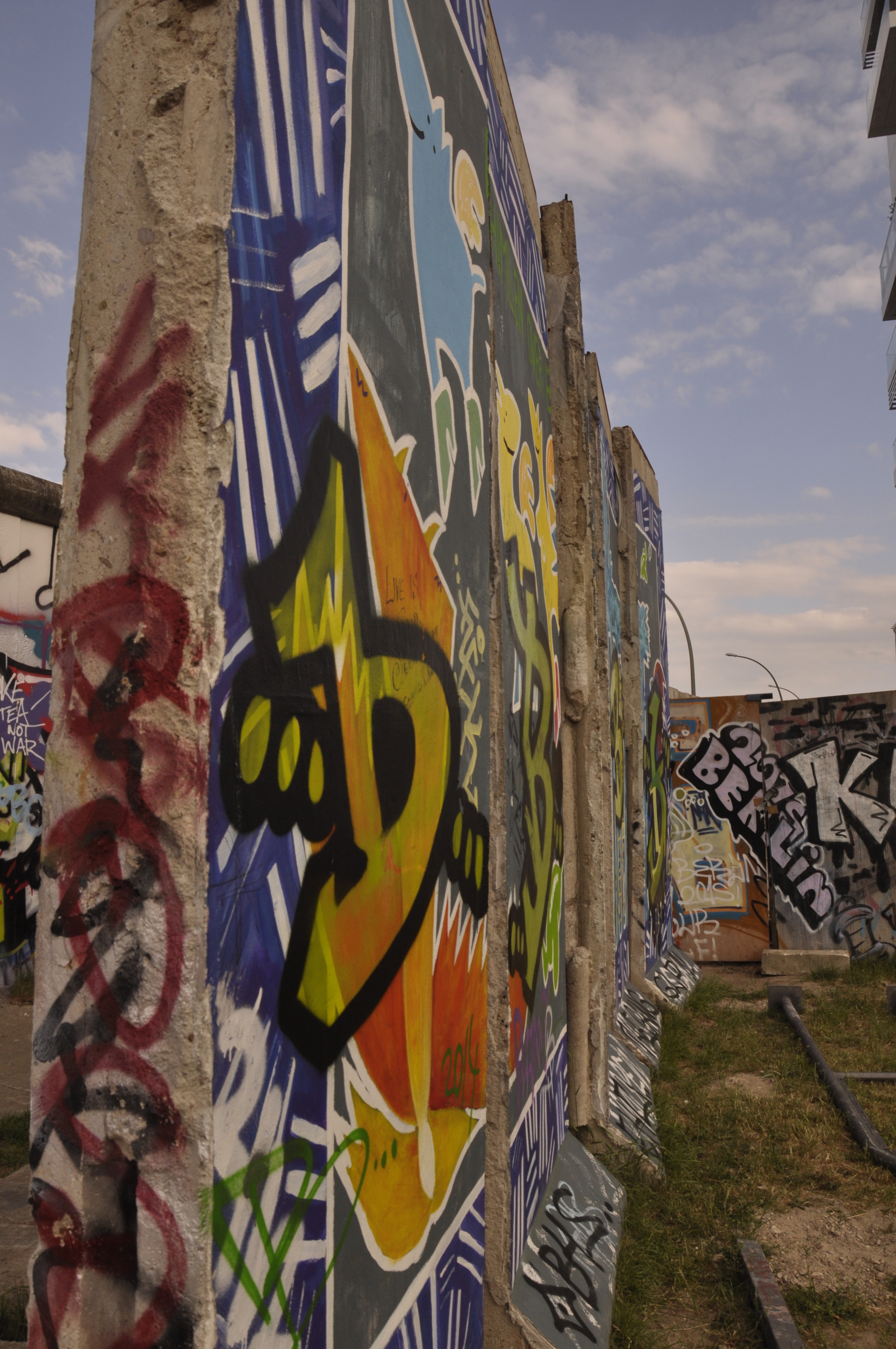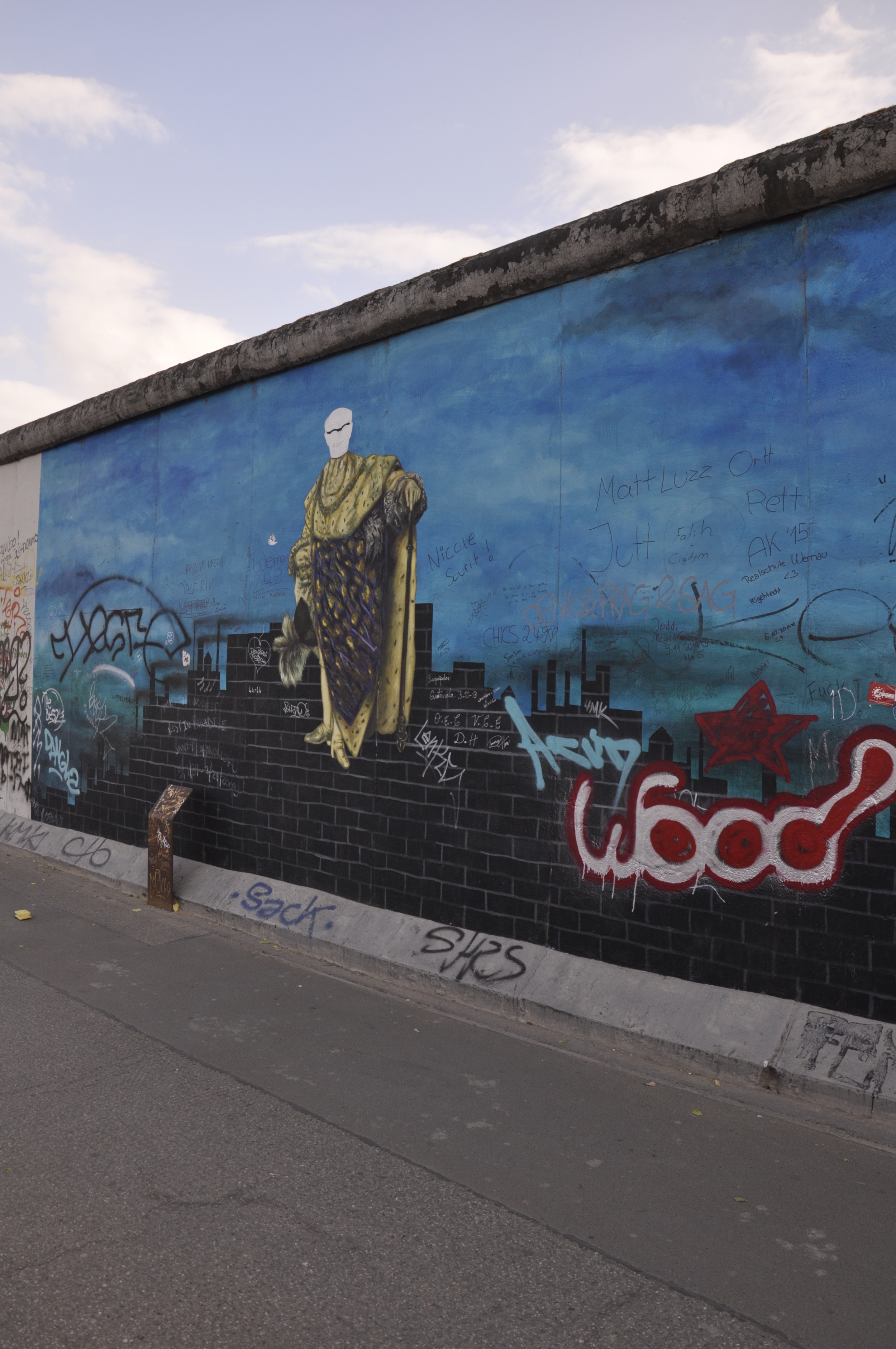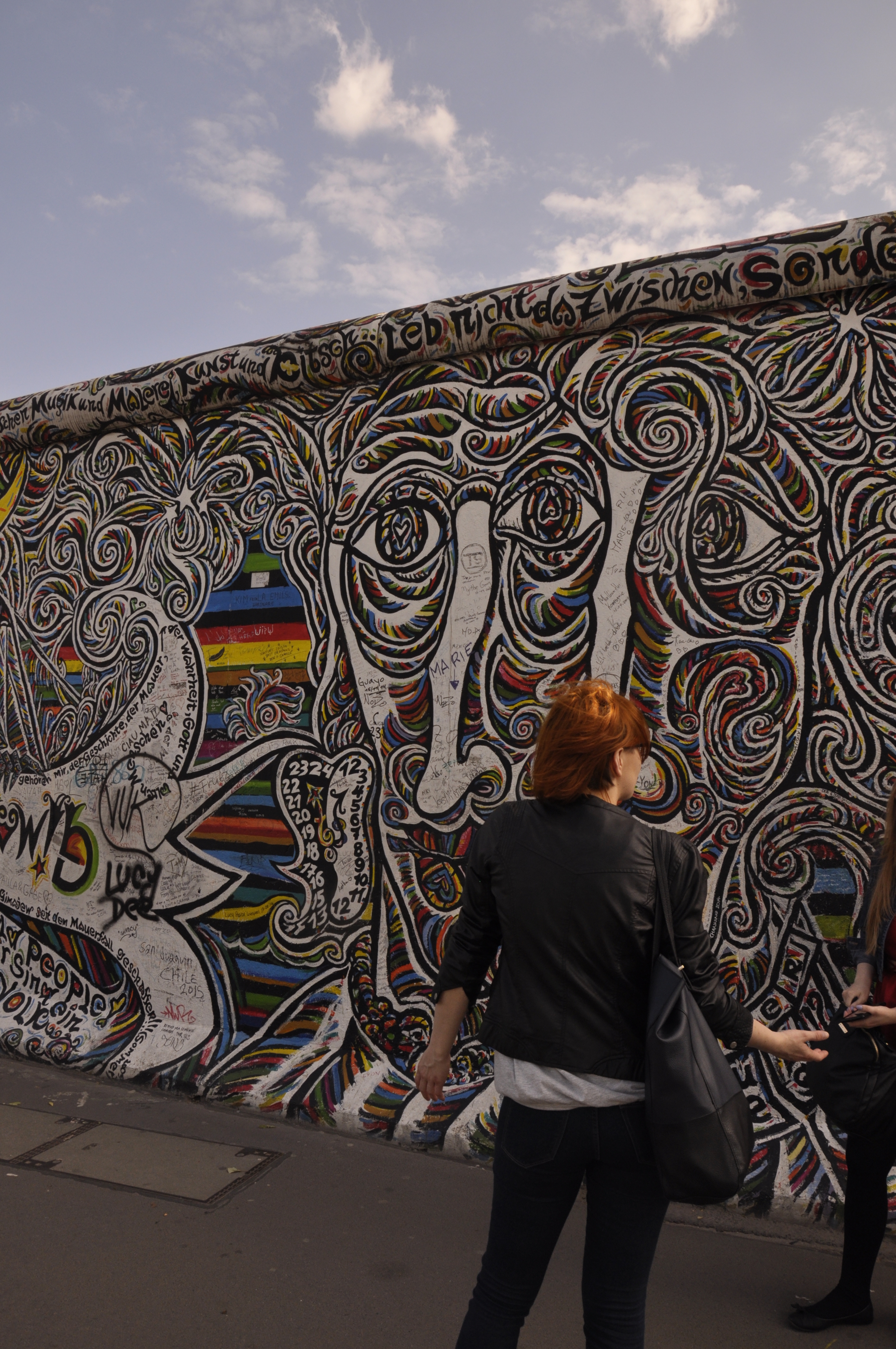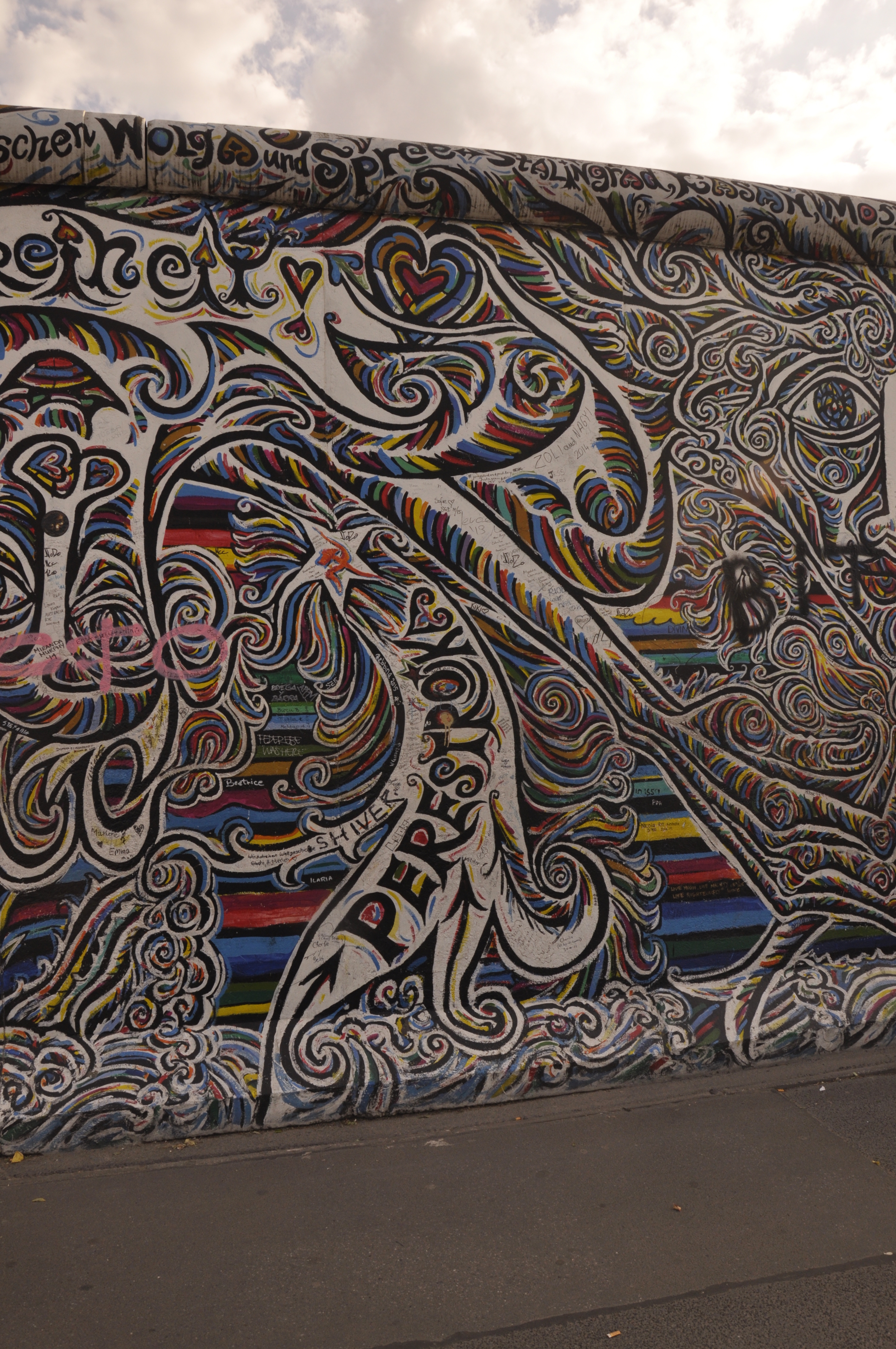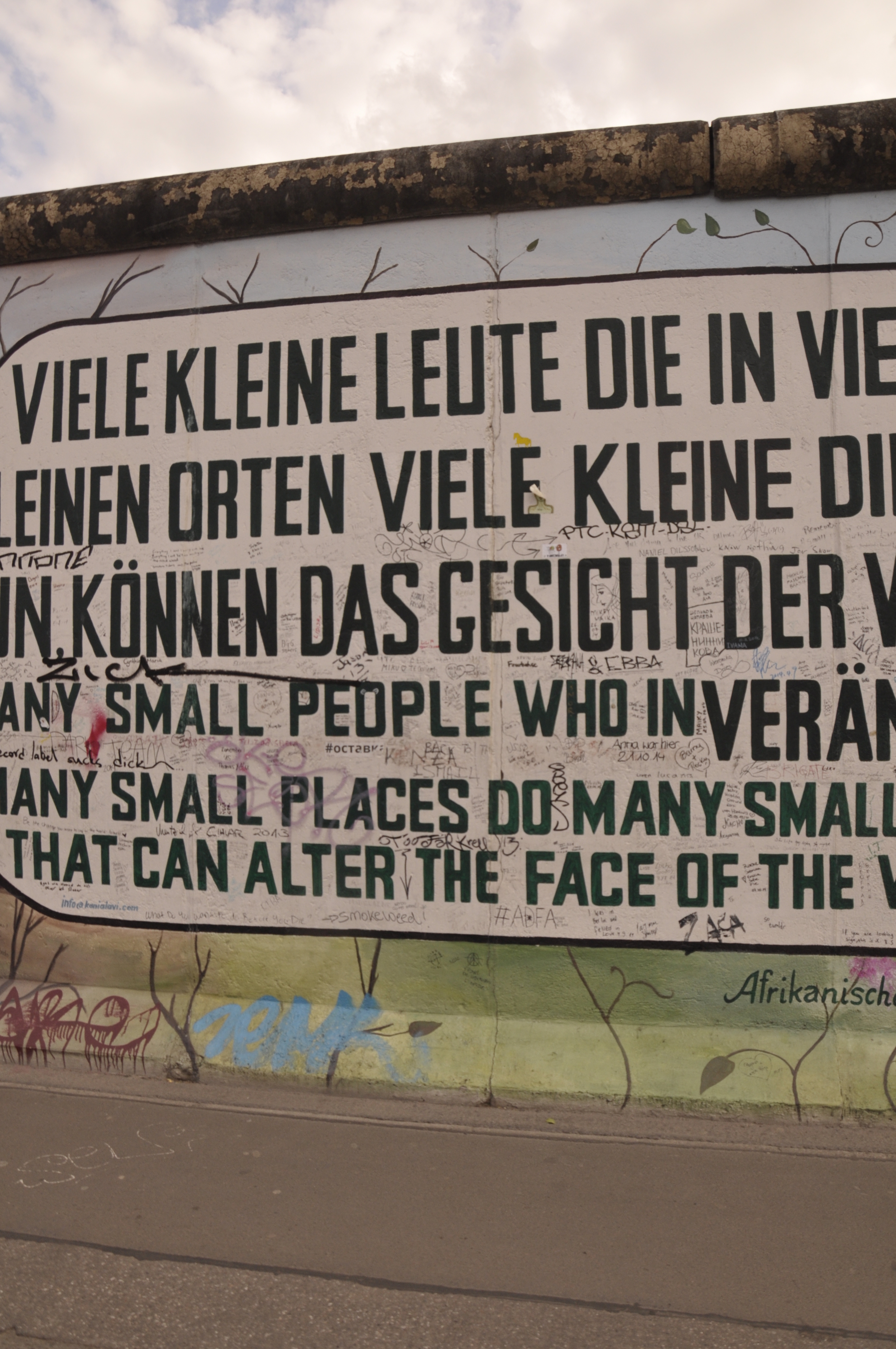 When I reached the end of the wall, I realized that I was starting to run out of time to see everything that I wanted. I hopped on the tram and ventured to see the Bauhaus Archiv Berlin and the Neue Nationalgalerie. While I could not go into either because they were closed, for an event and refurbishment, respectively, I did enjoy seeing the architecture of these places. I wanted to walk back to the station, but I realized that time was running faster than I could walk, so on the tram I went.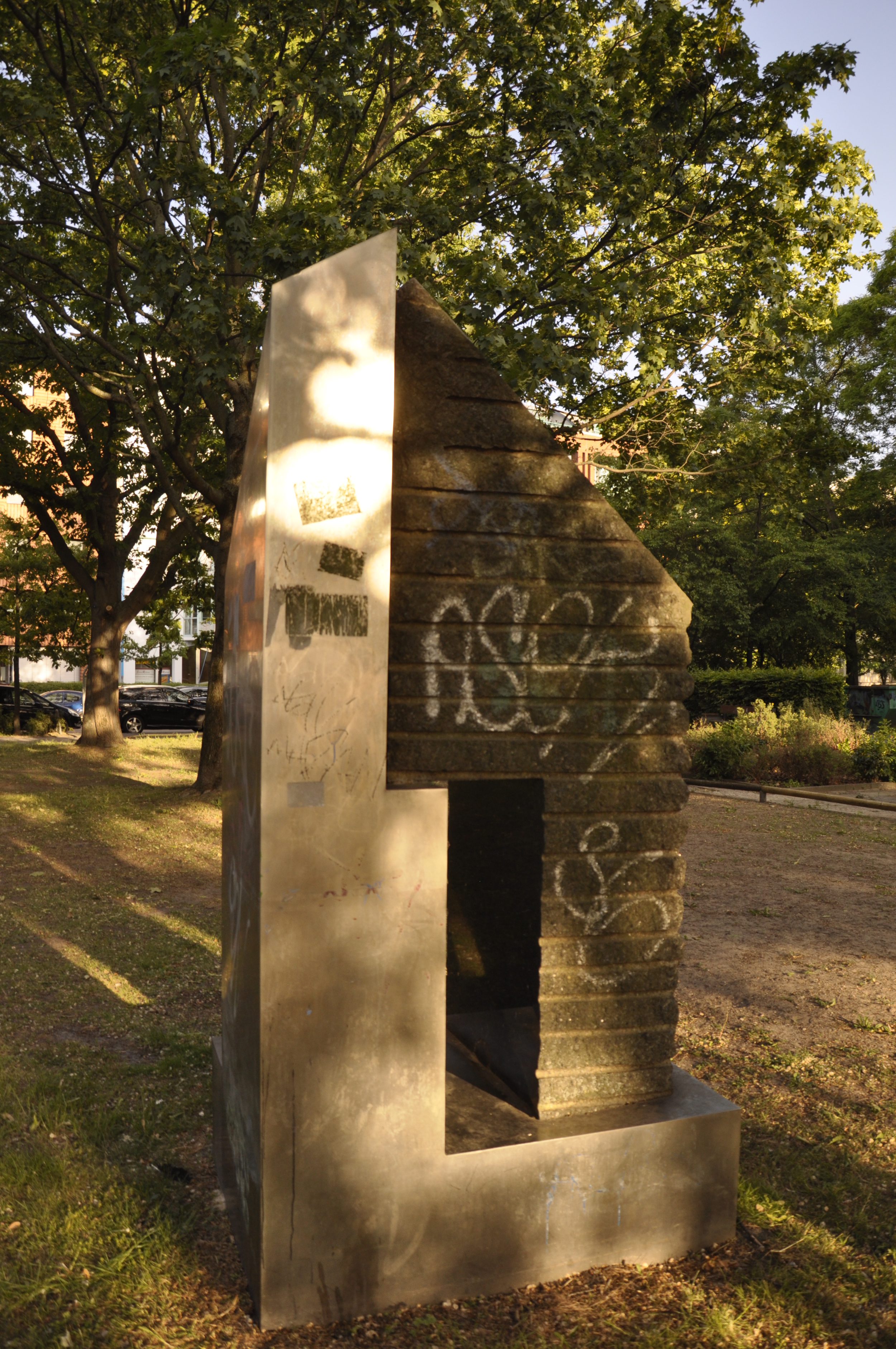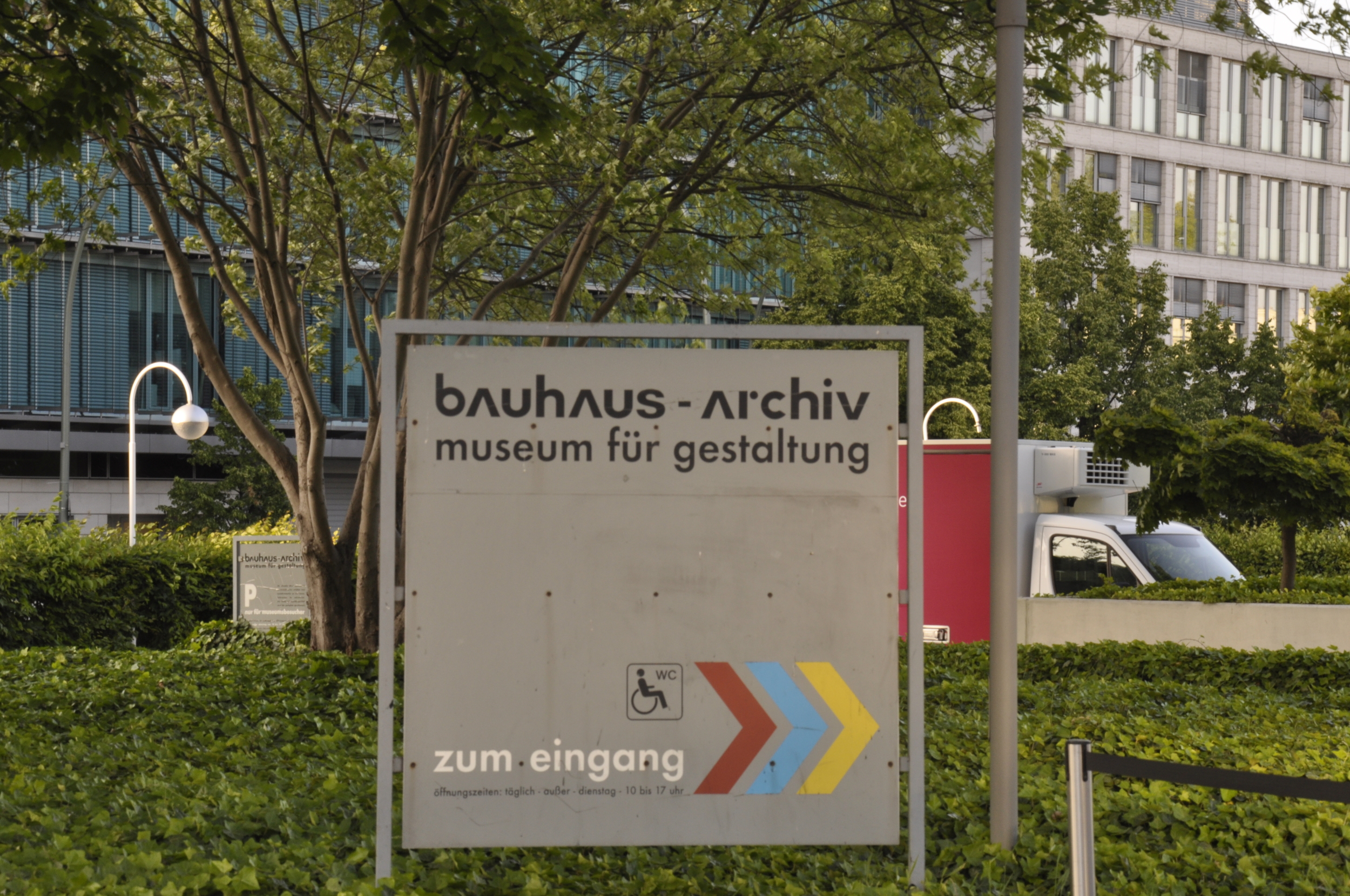 The new/renewed Berlin I experienced, while completely different from my project, filled me with enthusiasm for analyzing the first leg of my journey, Milan. While it is difficult to say that my travels of the past thirteen days has changed my life, I can definitely say it has provided new breath to as to how I would like to color my life and career. It is like a knife slicing into a layer cake and little bits of each layer blend into the next—distinguishable in flavor but the combination of each creates of a symphony of flavors and textures in one's mouth.
Now the work begins!!!
P.S. The night train to Zurich was an amazing experience!!!! The next time I trek across Europe, I want to ride more trains like this one. I could not stop smiling the moment I stepped onto my train car. In fact, I think should I ever settle down, we could skip the whole ceremony/party/cake/dress thing and just have a luxurious honeymoon aboard the Orient Express!
[1] My godmother, Anna, was German, and she used to call me fishface after the face I would make when I went to kiss people. Whenever she visited Germany on holidays, she would bring back lovely toys for my sister and I. My memories of her are always filled with love and the delightful aroma of the most amazing cookies that always filled her apartment.
[2] I included this information for those of us suffering from a Bridget Jones's Diary moment.
[3] For more detailed information on the Battle of Berlin, including resources for further reading go to this link: http://www.historyofwar.org/articles/battles_berlin.html. It is a minefield of information on every battle of WWII.
[4] There's a slight obsession in my family with Ancient Egypt and Ancient Egyptian artifacts. So much so, that my mother named her first Afghan hound Nefertiti—"the beauty has come"—and had a succession of royal names befitting all of our dogs until we started adopting mutts. Though I was not able to photograph the bust, I can say that her name defines her in more ways than one.
[5] I had never really appreciated how elegant concrete can be until I compared what I saw with what I saw on a field trip this spring to Diller Scofidio + Renfro's new home for Columbia University Medical Center's graduate program. Reid Friedman, now I get it!!!!
[6] Museumsinsel Berlin is a UNESCO World Heritage site and is home to five museums and the Berlin Cathedral.
[7] So much so, that as a child, I would bring a copy of A Bear Named Paddington and my bear into the base kitchen cabinets and pretend that we were heading on a rail journey to some far off land—code for I wanted a nap away from everyone. See Leela, my affinity for sleeping under desks started way back!